Epson Named Among Top 100 Global Innovators for Five Consecutive Years
In November 2015, international information services company Thomson Reuters recognized Seiko Epson for the fifth consecutive year as a "Top 100 Global Innovator" for its efforts in the area of global intellectual property protection. The award ceremony was held at Epson's Hirooka Office in February 2016.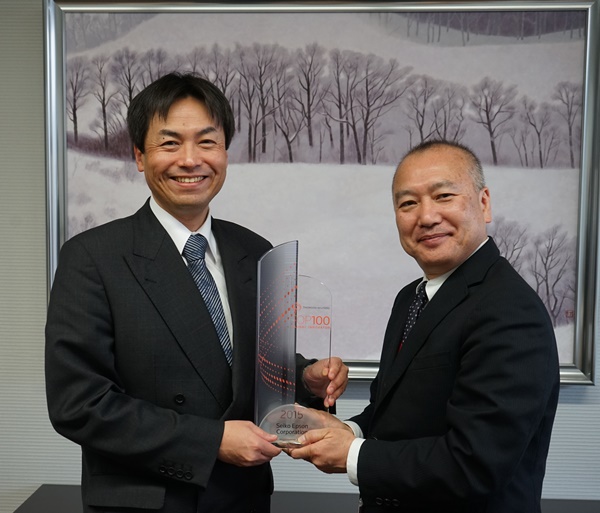 Toshiya Takahata, receiving a trophy from Hirofumi Hino (left)
&nbnbsp;
Starting in FY1998, this annual meeting aims to share our current global strategy and each division's business policy for combating counterfeits and to discuss common issues related to anti-counterfeit activities while aiming to expand our member's knowledge and know-how with Epson worldwide legal members engaged in countermeasures against counterfeit* Epson products. When a trademark is registered at each country's patent & trademark office, the trademark rights holder is given exclusive rights to use said trademark, and this right excludes others from using said trademark without the trademark holder's permission. For more information, please contact legal member in each region.