Gold Award in Water Efficient Building (WEB) Industry (Electronics) Sector
Singapore Epson Industrial bags the Gold certification for WEB awards by PUB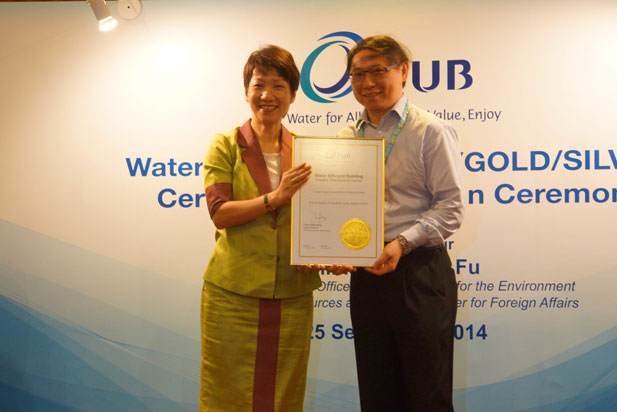 Singapore Epson Industrial Pte Ltd (Plating Division), was awarded the Gold Certification for Industry (Electronics) Sector, at the Inaugural Water Efficiency Building (WEB) Gold and Silver Certificate Presentation Ceremony & Seminar on Thursday, 25th September 2014.
Water saving efforts has always been part of Singapore Epson Industrial's CSR activity. Being in an industry which uses alot of water for our production, the company has been already finding ways and technologies to help build a better water efficency system since 1979.
Having won the silver award and obtaining the SS 577:2012 certificate in 2013, the company has reached another milestone by being the gold award certificate in this year.
The event was also attended by Singapore's Second Minister for the Environment and Water Resources and Second Minister for Foreign Affairs, Ms. Grace Fu.
The whole press release from PUB can be read here.
Channel News Asia's report "Tapping on technology to save water" can be found here.
Channel 8 News report "以创新方式省水 28间公司获奖" can be viewed here.
http://www.pub.gov.sg/mpublications/Pages/PressReleases.aspx?ItemId=423